Lucky me, I stumbled upon 99 cent packages of Jennie-O ground turkey at Randall's. You better believe I snatched up a few of those.
I made dog food with six lbs of turkey yesterday, one batch last a month. Here is a pic of one week of food for two toy poodles.
(
See the complete recipe for homemade dog food here
)
With one package I decided to make homemade meatballs and use a technique I just read about called flash freezing. Let's start with the ingredient list for "spicy meatballs."
1 lb of 99 cent Jennie-O ground turkey, 1 log of Jimmy Dean's Hot Sausage, half an onion, garlic, olive oil, salt and pepper, two eggs, bread crumbs, parmesan cheese, basil and flat leaf parsley.
I start by chopping up the onion really fine and sautéing in 2 tablespoons of olive oil until translucent.
Then I chop up the garlic and the parsley and add it to the onions. Here I add another tablespoon of olive oil because I wasn't hearing the "sizzle" I like so much. Once it looks about right, take it off the burner and let it cool while you prepare the MEAT!
In a large mixing bowl I dump the sausage – yeah, that looks gross.
Here is everything else I dumped: two eggs, sausage, turkey, cheese and a squirt of basil. I use the basil in the tube because it's not practical for me to have fresh herbs on hand all the time, especially when I get the urge to make something last minute like I usually get. This is a step up from dried herbs, but not quite as proper as using fresh basil…whatever.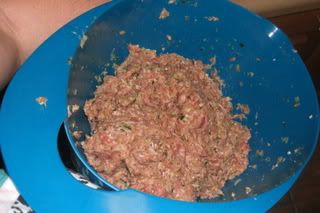 Go ahead and use your (clean) hands to mix in the onion/parsley/garlic mixture into the meat. Be careful not to overwork the mixture - It will make the meatballs tough, at least that is what I've read.
Now for the fun part. If you have kids, I'm sure they would get into this. Lucky me, I don't…so I get to play by myself while my two dogs drool at my feet. Roll up as many two inch meatballs as you can. I happen to be able to roll 31 meatballs out of this batch.
I put two dozen in neat little rows on a cookie sheet and pop those into the freezer to "flash freeze" them for an hour. Once frozen I will dump them in a ziplock bag and they will stay good for about two months. Next time I want a home cooked meal without the effort I will sauté a couple of these bad boys up and serve them over pasta or on crusty bread for a meatball sandwich with some melted mozzarella on top – YUM!
I reserve seven of the fresh meatballs and that is what I am cooking with tonight. I use the same pan from before with all the onion and garlic and brown bits on it.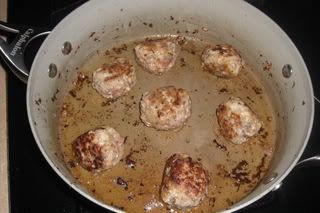 Add an additional tablespoon of olive oil and brown these on all sides. It takes me about 10 minutes total. They will not be cooked through all the way, but you simply want it to hold its structure and get a nice flavorful crust on the outside. Once they are brown all over, pull those off and cover with foil for later.
Now we make the homemade tomato sauce – you can't find stuff this good in a can!! The ingredients I'm using are…garlic, onion, basil, olive oil, salt, pepper (all are still on my counter from the meatballs) and I add to it several cans of tomato in different forms. Here I have diced, and sauce. I also have a delish bottle of red wine and manchego cheese. The manchego cheese is for me to snack on while I sip some wine and make this sauce.
In that same grimy pan, I add my ½ chopped onion and another tablespoon of olive oil and cook over medium high heat until it gets golden brown, about 5-8 minutes. Then I added a tablespoon of chopped garlic and a squirt of basil. I stir it together and let it cook for another minute.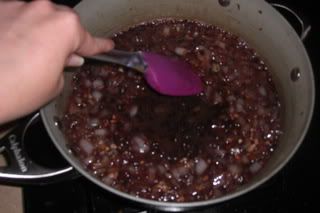 Now I take a sip of red wine and dump the rest of my glass in there, about a ½ cup. Let this simmer while you fill up your wine glass again. Stir it occasionally, but you want most of the liquid to evaporate, about 3 minutes.
The last step is to throw in a can of your tomatoes. Use what you have on hand. I think the best would be a large can of crushed tomatoes and a can of tomato paste. I only had a can of diced and a can of tomato sauce. I also found some cream in my fridge that was about to expire, so I dumped the last 1/3 cup in there along with a heavy pinch of salt and pepper. Then I turned the burner to its lowest setting, added back the seven browned meatballs and covered this bad boy for 25 minutes.
During this time I boiled water and threw in some noodles to cook until al dente. Once 25 minutes goes by the meatballs are cooked through and very moist. The sauce has melded together and is nice and rich. I spooned pasta into bowls, topped with sauce and added four meatballs for Jim's bowl.
He is a happy man. I wish I had a picture of his face when I told him there were more homemade meatballs in the freezer…like two dozen more!