I don't know if you have heard, but pure pumpkin is REALLY healthy. Half a cup of this orange goop only has 40 calories and half a gram of fat, 9 g carbs, 4 g sugar and 2 g protein…and not to mention ALL the vitamin A you could want. I love pumpkin pie made with granulated sugar with a can of evaporated milk and that flaky pie crust is just the best.
In my new mission to cook healthy food that still taste good, I tried making a Protein Pumpkin Pie I found on a the t-nation.com message board. My sweet tooth is sabotaging my weight loss goals, so I thought I would give this a shot.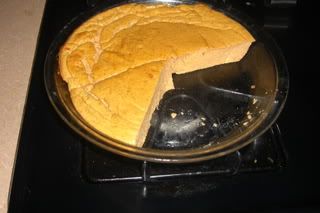 Crustless Protein Pumpkin Pie
1 cup cottage cheese (fat free)
1 scoop vanilla protein powder for added protein (optional)
11 T Splenda, divided
1 can (15 oz) solid pumpkin
7 egg whites
Ground cinnamon
Ground cloves
Ground ginger
Ground nutmeg
Directions say to blend cottage cheese until smooth and creamy. I put a cup in the food processor and blended on high speed until completely creamy. I've never thought to do this before, but I liked the texture a lot! Then the direction say to pour this into a bowl and add 4 T Splenda, pumpkin and spices. I actually just added the splenda, pumpkin and spice into my cuisinart and blended it really good with the cottage cheese cream I made. Notice the ingredients do not specify how much of the spices to add, so I just made it up as I went, adding more cinnamon than the others because I like cinnamon flavors more than nutmeg and cloves. The cloves in my opinion make it a bit bitter, so I only put in a heavy pinch.
Then my lovely friend Allyson came over and she just got her hair cut so we spent a few minutes talking about how fabulous she looks. We opened a bottle of California table white wine called Middle Sister (crisp, fresh and easy to drink) and she joined me in the kitchen to continue the pie adventure.
Next, you need to separate your egg whites (I bought a small carton of egg whites to make this step easier) and put into mixing bowl. Mix at high speed, gradually adding 7 T of Splenda. I'd like to interrupt here and say I don't have a handy dandy mixer, but expect to register for one when I get married. I used a hand mixer…maybe that was the beginning of the end for me.
Mix these egg whites until they are "firm." I think the definition of firm is forming soft peaks…anyone? Anyone? Okay, so this is where I screwed up a little (maybe) I forgot to add the 7 T of splenda and beat the living hell out of these egg whites. When my arm got tired of holding the mixer Allyson and I agreed we should just start "folding" the egg whites into my pumpkin mixture but it never really got blended. Oh no.
This is when I stopped chatting and looked back at the recipe and realized I forgot the splenda. So I just added it to my bowl of mess and started beating all of it together instead of "folding." At this point it looks really big, lots of liquid and I'm worried it's not going to fit into my pie plate. We sprayed my glass pie plate with Pam and poured all the contents of my mixing bowl in. Now, bake at 425 for 15 minutes. After 15 minutes the top is starting to brown and it looks like a regular pumpkin pie. Then turn down heat and bake at 350 for another 40 minutes. When I took it out, it was huge! It never overflowed but stood three inches higher than the pie plate. I let it cool for 10 minutes and it deflated to resemble a pie.
We were supposed to let it cool before cutting, but after all this work we wanted the reward! It was very warm when we sliced it, but all the ingredients held together well and the consistency of the pie was great. You could taste the pumpkin flavor and all the spices. You couldn't tell at all there was a cup of cottage cheese in it. You could definitely taste the egg, but I wasn't bothered by it.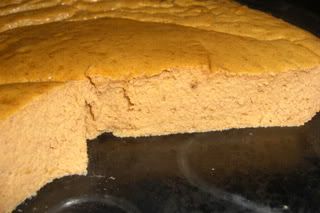 If you are trying to lose weight and have a sweet tooth like I do, this is a great alternative to the real deal. Add a squirt of fat free whipped topping, and you got a guiltless dessert!
This morning I tried a sliver of the pie after it had chilled in the fridge overnight. DELISH! It is much better served cold in my humble opinion.